you are here: Start page > About > Georgia Tech Lorraine
Georgia Tech Lorraine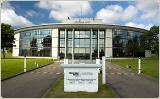 Georgia Tech-Lorraine (GTL) is the European Campus of the Georgia Institute of Technology (G.I.T).
Georgia Tech is a public university, worldwide renowned for creating tomorrow's leaders in engineering, science and technology. Georgia Tech is consistently ranked among the best universities in the United States and the world, ranked #6 on Shanghai world ranking. Georgia Tech-Lorraine (GTL) was established as Georgia Tech's first international campus in 1990 in Metz, France, a city recently named by the New York Times as one of the top 44 places to see in the world. Centrally located in eastern France along the Luxembourg and German borders, GTL is less than 90 minutes by train from Paris. Being a highly innovative institution offering year-round undergraduate, Masters and PhD programs, GTL is also home to a strong sponsored research program in key technological areas. GTL fosters the flow of new ideas, creates new opportunities, and develops valuable qualities in our students, such as global leadership and innovative thinking. In today's global economy, Georgia Tech-Lorraine plays a determining role in fulfilling the goals of the Georgia Institute of Technology as stated in its strategic plan. Over 3000 undergraduate and MS students (CS, ECE, and ME) have spent a semester or more on the Metz campus, enriching their education with a global perspective.

Unité Mixte Internationale (UMI) is an international joint laboratory between Georgia Tech and the French 'Centre National de la Recherche Scientifique' (CNRS). Research activities are primarily focused on Non-linear Optics and Dynamics, Smart Materials, Computer Science. Research activities entail: 55 researches, around 40 PhDs, ANR programs, industrial contracts, European Contracts. An open Lab on "Material & process" had been created in 2011 with the largest car manufacturer in France: PSA Peugeot Citroên.

The "Institut Lafayette": is an innovation platform created to develop applications and products in optoelectronics and advanced semiconductor materials within a complete innovation chain starting with a concept, passing through the elaboration of a material, the qualification of prototypes and components, to the validation of the up-scaling of its manufacturing. The new technologies as developed are put on the market by an array of technology transfer services and commercialization tools, serving as a catalyst for economic development in the region, based either on the involvement of the industry groups and entrepreneurship . The Institut Lafayette is a third major development of Georgia Tech Lorraine growth in Metz. It is developed with the contribution of two significant institutes in Atlanta Entreprise Innovation Institute and Georgia Tech Global; and supported by FEDER, État Français, Conseil Régional de Lorraine, Conseil Général de la Moselle and Metz Métropole, Georgia Institute of Technology, Georgia Tech Lorraine.